Toronto Drafting Services for Design Professionals
Architectural Technologists naturally work well with practicing professionals.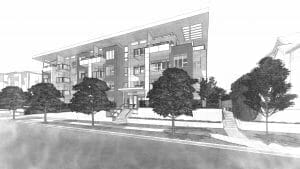 Toronto is a dynamic metropolis amidst soaring skyscrapers. Recognized as one of the most multicultural and cosmopolitan cities in the world, Toronto is an international hub of business, finance, arts, and culture. It's no wonder people flock to live and work here. We understand building permit services in Toronto and are well-versed in the newest municipal standards for various sorts of construction permits.
Working as a bridge between concept and occupancy, we free up a lot of your time while assisting you in delivering a final, polished project which you can be proud of.
We frequently operate behind the scenes to provide the expert Toronto drafting services you require, or we may assist by working with other professionals on the project. Depending on your preference, your client or consultant might know we are a part of your team or we can simply operate behind the scenes.
3D Software & Processes
We utilise Vectorworks for all 3D projects, which is a complete architectural drafting and design program built specifically for architects. The model generates floor plans, elevations, sections, and roof plans, so you can rest assured that the different sheets are nicely coordinated.
Vectorworks is compatible with Autodesk and exports.dwg files, allowing project team members that use Autodesk to collaborate.
Because it's a 3D model, renderings and other vignettes may be created for design exploration. This helps to avoid mistakes during construction, saving time and money.
Working as Part of Your Team
We convert your hand-drawn initial sketches, computer files, or early blueprints into fully articulated 3D design drawings, complete with renderings or animations. This allows you to concentrate on design rather than computer data entry.
Fenestration, texturing, and massing is fast and precisely achieved, enabling for design alterations to be evaluated at various degrees of detail. We'll follow your CAD specifications and give the finished model to you for further coordination or BIM integration.
Our vision is to bring your project into reality by offering a balanced service of consulting and architectural drafting and design that culminates into skillfully designed plans.
At Thomas Drafting Inc. we take great pride in our customer service and will meet your architectural drafting and design needs in a kind and professional manner, keeping you in the loop every step of the way. Appreciating that time spent in the design results in fewer and less costly changes on site, our office is available throughout construction and the permit process to answer questions that may arise.
We specialize in residential and commercial construction. From mixed-use apartments, multi-family townhouses, subdivisions, rezoning, urban infill, vacation homes, cabins, estates, renovations or additions, our Toronto drafting services will surely benefit any project you may have.
Building Permit Drawings
Whether it's concept drawings for first reading with council or further detailed drawings for advisory design panel or public hearing, our Toronto architectural drafting and design experts will be there to help get your project through to the fourth reading and council's approval.
We have experience working with:
Geotechnical engineers,
Environmental consultants,
Arborist,
Wildfire assessors,
Traffic engineers,
Civil engineers,
Landscape Architects,
and other various consultants.
Building Permit Drawings
Coordinating with the consultants on a project is our specialty.
We operate fluently within part 9 and part 3 of the building code, as well as local building and zoning legislation, whether continuing a design from a DP or rezoning application or initiating a project that is still only concept.
We enjoy working closely with:
Surveyors,
Structural engineers,
Building envelope,
Mechanical engineers,
Electrical engineers,
and many others that may be involved with your project.
Whether chairing meetings or taking direction, we can be as engaged as much or as little as your project needs.
Our Services
From small renovations to large multi-family projects in the Toronto area, no project is too small or too large. A sampling of our Toronto drafting services include:
Model Development
Architectural Renderings – 3D Exterior and Interior Perspectives
Architectural Animation
Production Drafting
Design Development
Building Permit Drawings
Rezoning Drawings
Construction Drawings
3D Printing
Contact us today to discuss your Toronto project needs and see how we can assist.
PRICING GUIDELINE DOWNLOADBOOK A FREE CONSULTATIONSEE OUR PROJECTS
Floor plans
Elevation plans
Cross section drawings
Site plans
Isometric drawings
Perspective renderings
3D CAD renderings
Building permit documents
Within the design business, we collaborate with interior designers, landscape architects and several others. We can produce whatever renderings you are needing whether it be for a residential, commercial or mixed-use project.